Coconut Oil
For
Beauty and Hygiene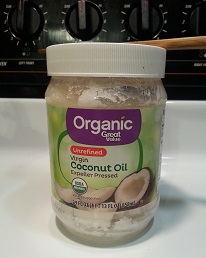 ---
 Coconut Oil for Personal Hygiene

TEETH

Coconut Oil!  You gotta love it and and it has so many uses!  Even for oral hygiene and beautiful teeth.  If you've heard of oil pulling for your teeth and gums, this is a great oil to use.  If you are not familiar with it, the link above is very informative on oil pulling. 
Gingivitis and loose teeth respond well to oil pulling, as mine did.  The results are tighter gums and healthier feeling gums with a side benefit of whiter teeth.
Coconut oil mixed with baking soda as a toothpaste, was our granddaughter's solution, when she was having problems with sensitive teeth and gums.  Her teeth actually got whiter as a result as well.
---
Coconut Oil For Beauty
SKIN
Face
If you are searching for a natural beauty cream and economical facial moisturizer, this is it. We have used it for 3 years now.  It also works as a sunscreen.  Just a short testimonial about CO's effectiveness as a sunscreen:  When I started using it daily as a moisturizer about 3 years ago, I was working at our church summer camp.  I would usually sunburn the first few days and then my nose and cheeks would peel.   That year I started using it as my moisturizer and since then, I haven't burned at all.

A very small amount of peppermint essential oil can be added to, to help it double as a skin toner as well. 

It is a great face and eye makeup remover and is also antibacterial, so it can be used as a facial moisturizer at the end of the day as it cleanses.  Just be careful not to get it in your eyes.    If you do, it causes mild blurriness for a bit, but doesn't hurt or cause harm.
Body
If you have ever suffered with psoriasis and the maddening itch, you can get some relief with CO, my mom and I did.  It didn't clear up the psoriasis completely, but it did improve and helped us to tolerate our skin a little more.  Taking Diatomaceous Earth, was the final solution to clearing the psoriasis up.  That's another  powerhouse mineral with some great benefits for you body. 

As a family, we have used coconut oil regularly for the past three and a half years.  We have nothing but praises for this wonderful ingredient that God placed on this earth for our use.

Feet
Yet another hygiene use is a treatment for athletes foot.  If you have dry, itchy, cracked feet, it is tried and true for clearing it up.  Our son had tried everything.  He heard us talk a lot about the wonderful uses of coconut oil, so he decided on his own  to give it a try. 
An effective way is to put it on your feet every night and in the morning before putting your socks on.   That's how our son used it and Lo and behold, it cleared up completely.  He said the itching stopped, no more cracks, he still uses it and it still keeps the athletes foot at bay! 

CO is also good as a salve, to soothe burnt skin and you can use it as a base for various face masks. Our daughter creates her own blend, of ingredients with CO, for a face mask.

---
We have a friend that has created an amazing product, with a CO base and hemp oil, for joint pain relief, sunburn, muscle soreness and other uses.  We use it often.  She has many other products as well.
Check out  Anra Essentials. 
The link is her Facebook page, just send her a message asking about her product.  There are some testimonials about results from the salve.

Click here to comment and Share your story,  you can help others learn of more ways to use a natural and healthy ingredient, instead of chemical laden products.  Experience and testimonials are great teachers.  We'd love to hear from you!
---
CO for
Brain Health

There has been much said and written about coconut oil and brain health.  Stroke victims are benefited with consuming CO daily.  My husband had a stroke and he started taking it by the tablespoon.  It seemed to help him as he was recovering.  We have gotten a little slack on keeping up with tablespoon dosages, but I still use it in smoothies, all my baking, frying and other cooking so we are all still getting a good amount daily.
A study was conducted by academic researchers in Valencia, Spain, to support it's ability to reduce symptoms of "Alzheimers Disease",  (AD).
The following are the results they concluded with, as well as the thought, "that coconut oil could be a new non-pharmacological alternative in AD patients". 
"After intervention with coconut oil, improvements in episodic, temporal orientation, and semantic memory were observed, and it seems that the positive effect is more evident in women with mild-moderate state, although other improvements in males and severe state were also shown."

There are many *studies to be found on coconut oil, as well as medium-chain triglycerides (MCT), which makes up nearly 60 percent of CO total fat content.  Medium-chain triglycerides is just one of the many reasons coconut oil is so beneficial, especially for brain health.  

MCTs are a naturally occurring source of dietary fats that  are abundant in CO.  Our bodies rapidly convert them into ketones, which can be used as an energy source by the brain.
---
Quote by Dr. Mark Hyman
concerning the MCTs in Coconut Oil:

"When you eat the right fats, you increase your metabolism, stimulate fat burning and decrease hunger. One of my favorite fats is medium-chain triglycerides or MCTs, either in coconut oil or as a stand-alone oil."

In addition, it is stated in one abstract concerning coconut that, it is classified as a highly nutritious "functional food".  It is rich in dietary fiber, vitamins and minerals; however, notably, evidence is mounting to support the concept that coconut may be beneficial in the treatment of obesity, dyslipidaemia, elevated LDL, insulin resistance and hypertension.

There is much evidence that CO needs to be a staple in our diets today, being beneficial in so many ways, internally and externally, for our health.  It works for food, health, beauty and hygiene.  What an amazing product!
If you have a favorite way to use coconut oil for beauty, hygiene or health we would love for you to share it with us. 
If you didn't go and share previously on the link above and you want to now,   just click and share or, read what others have already shared and comment if you can relate to their story.
---
More research
https://drhyman.com/blog/2016/05/05/fatty-liver-is-more-dangerous-than-you-might-realize-heres-how-to-heal-it/

https://www.ncbi.nlm.nih.gov/pubmed/30056419

https://www.ncbi.nlm.nih.gov/pubmed/25387216  (CO and potential cardioprotective affects)

copyright 2017 Best2bNatural.com