How To
Make Coconut Milk


---
Below is a recipe to make coconut milk on your own and not have to run to the store for it.  I have used it for several years.
It has also been used by my daughters and daughter-in-law, as a base for baby formula.  There were situations when a few of them were not able to breastfeed, and this was a healthy option. Be sure to find a recipe that is  The babies thrived as well.

An added benefit being, fresh homemade coconut milk, is not full of chemicals and soy. 
---
                        Make Fresh Coconut Milk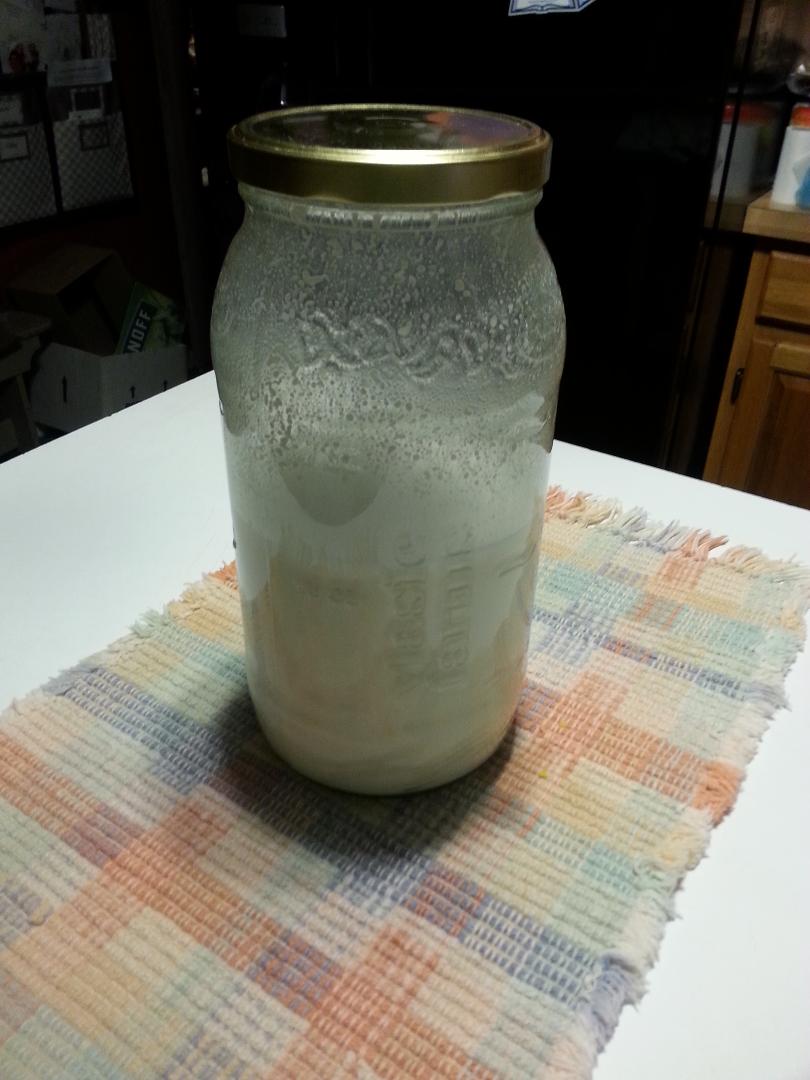 Two quarts of fresh homemade coconut milk
Coconut Milk is best fresh, just like any other natural drink.  However it really isn't a milk, it is a beverage that is made or extracted from the meat of the coconut. 
A good reason to make your own coconut milk is, that there are a lot of mass produced coconut milk products that have added ingredients or are packaged in less than safe containers, such as cans.  Plus once again, you can't beat fresh made anything!

---
Get Ready To
Make Coconut Milk

---
COCONUT MILK RECIPE:
Fast and simple
If possible, use organic, unsweetened,

 

flaked or grated coconut

.                                    (We get it at our nearest health food store or order it online) 

 2 Cups Coconut.  (

If desired, grind the coconut in a coffee grinder or food processor. It speeds up the coconut absorbing the water, but a little harder to strain out any graininess.

) Put in a large bowl that will handle 4 cups boiling water. 

 Bring 4 Cups, filtered or distilled, water to a boil and remove from the heat and wait just until the boiling stops.  Pour the water over the coconut and put a plate or lid over the bowl and let set for 2 to 3 hours.

 Prepare a container large enough to hold 4 Cups of liquid, and cover the opening with cheesecloth or some other sort of fine woven cloth, strainer or filter.  

 Strain the liquid through your strainer then press on the coconut to squeeze the liquid out.

 Return the Coconut Meat to the original bowl and add another 2 Cups of hot water to it.  Let it sit another 1 to 2 hours and then strain into the same container when it is done. 

 If the milk is still rather grainy then filter it again.  It is really what your personal preference is.  Let it get cold and use as you would use regular milk.

 Depending on what you are using the milk for, you can add Stevia to it to add some sweetness.

 It will settle between uses, so we shake it before each use.

Hope you enjoyed this simple process, and that it is satisfying for you to make coconut milk for your own use.
---
Coconut Milk
Made From Coconut Cream
If you don't have dried coconut to make the coconut milk, you can use coconut cream, in a pinch.  In a blender or food processor add 5.5 ounces of coconut cream to 2 cups of water.
Add or use less water to make it to your taste. 
Also, check the ingredients list if you buy from a regular grocery store, many times the coconut cream is sweetened.

---
Links of Interest about coconut milk:


copyright 2017 Best2bNatural.com