About....


The whole crew of 40 plus Grandma and Grandpa(Jeanette's parents).Three babies on the way as well. So much fun!
This page is about...Our big family.   8 children, 7 with spouses, 24 grandchildren and always counting, and one wonderful husband of 39 years. 

 As you can imagine I get a lot of calls with,  "Mom, what can I do about ...". and you can fill in the blank with about anything.  Toothache, low iron, pregnancy morning sickness, allergies, a good use for garden produce or fruit, even a way to make paint or playdough...the list goes on.  I like to stick as much as possible, to natural solutions for any of those requests. 
So that's why I started this website.  I decided, rather than try to keep track of all my answers and repeat it to the next one that asks, I would put it on a site so they could find it whenever they wanted. Now it will all be in one place and categorized for easier access when needed.

At one time I started a blog for my girls but it was a little difficult to maintain the way it needed to be.  So I decided to make a website for them and if anyone else can benefit from it, all the better.
Not that I have all the answers, far from it, but I have come across some pretty good things that have really worked for us through the years.  And with raising 8, very active children, I had plenty of opportunity to try things out.

I personally believe, that God  in his infinite love and wisdom provided everything we need for our spiritual and physical well being. He gave us hope and provision for our eternal destiny.

Then within his great creation He gave us many wonderful and foods, herbs and other natural provisions to live healthy.  We can then maintain our health by using these things wisely. 
I am fascinated with and love to study everything I can about living and  eating naturally.
---
Welcome
So..., Welcome to my site, my name is Jeanette McCauley. Studying natural living and health is a passion of mine.   I could also talk about it for hours, and have before, especially with someone who enjoys it as much as I do. 
My grandson read this page and said, "no, mammaw, you should of put, you can talk about it for hours and hours....".  So I guess he's heard plenty and maybe more than he wanted, of the natural living discussions.

One of my sons once commented that, "before we know it Mom's going to have us eating bark off a tree!"  To which I responded, "Well, I just read in one of my books, that you can eat the bark of several kinds of trees."  and… They still love me.
In all seriousness, I love to read and research, especially concerning natural living and natural health. 
Below are a few of the books I read and use as references.  There are more on my bookshelves and the rest are in the library, which I should basically own, considering I have paid so many late fees on them.
---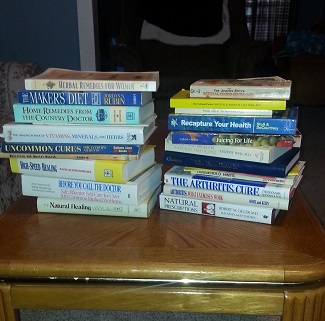 Read, Read and Read Some More

For the last 38 years I have put in countless hours researching, reading, experimenting and asking questions of others to learn all I could for living naturally.  My goal being to raise my family in the healthiest manner I could and for each of them to develop a strong immune system.
I would like to add, that my continuing goal was and is for my family to remain healthy into adulthood and to avoid as many chemical laden, and fake products as possible.  Finally, my hope is that they will pass down good, natural health habits to their children as well.  Then as a result, all of them might avoid as many detrimental side affects as possible.
With 8 children, some invariably have to try their own thing, which I understand.  But as they have started having children of their own they have come back to the natural side of living as much as possible.  My youngest daughter says they go to the "dark side" when her or any of her siblings start eating lots of junk food and such.  A family joke. 
On their own, our children have noticed a marked difference in how they felt, when they started consuming and using foods and products that were extremely processed.  In fact they compare notes on what has hurt and helped them the most in their habit changes.
---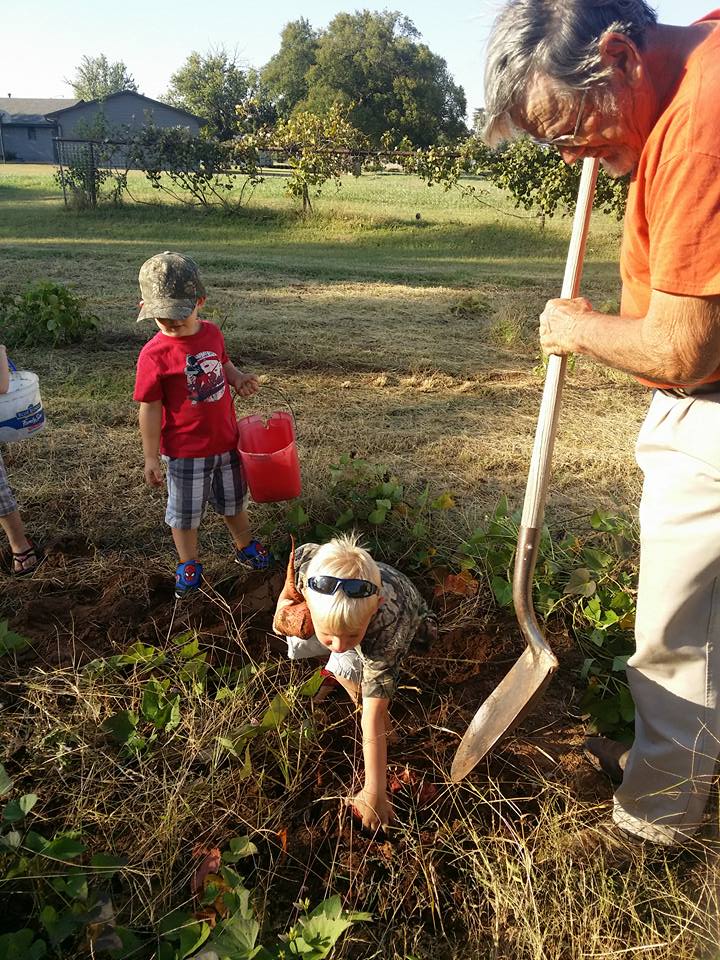 Experience and training right here. Two of my grandsons helping their great grandpa dig "sweet taters". They're learning the joy of living naturally.
About Experience and Training
Experience, as I stated previously, is from raising 8 children and they all survived, through many scenarios,  and now having 25 grandchildren and being very involved in their lives.
Training, I am currently working on courses to receive my certification as a Natural Health Consultant.   My only other "credentials" are, avid reading and studying, researching and talking with others.  In addition, I was always working to solve different health issues of our family of 10, without running to a Drs. office for every illness that came along.  Through time, I also learned about many of the detrimental chemicals in our everyday household and personal hygiene products.
---
It's Been Long Journey
The beginning of my quest was, when my husband developed blood sugar problems (hypoglycemia), a Dr. told us it would probably turn into diabetes soon, and to just give him glucose (sugar) when he started bottoming out. 
I started reading a lot about hypoglycemia and found out, that giving him straight sugar was the worst thing we could do. This was before internet in our homes or google so my research consisted of going to the library and/or buying our own books. 
We started making gradual changes and kept learning more about the effect our diet has on our health and I continued to do a lot more reading and studying. 
---
Diet Changes Were Mandatory
Making diet changes was the main therapy we practiced, specifically cutting out sugar and bad carbs, as much as possible.  That was a roller coaster ride for a while, until my husband noticed the consistent pattern of mood swings, exhaustion, and general feeling bad every time he consumed the wrong foods. 
 We started on some natural supplements as well.  We both still lived rather inconsistent diet and exercise habits while learning to change them.  Then our children came along and we had to be the example for them.  That was another learning experience in itself, which I will share on another page.
---
Knowledge Put to Practice
I have many books that I did and still do, enjoy reading, and others I keep for reference. However one of my favorites is, "The Green Pharmacy" by James A Duke, I have literally worn out 2 of them and plan on purchasing another one soon.  There are others that I will list specifically for you on my references page. 
I will share  from several of these books, as well as from our own experiences with natural living, and natural health. Both the successes and things that didn't work so well.
I make many references to "us" in this website, because if it wasn't for my husband trusting me, I wouldn't have as much to write about.  He went with the ideas, sometimes reluctantly, to change our diet and purchase natural supplements, teas and other natural living products.  I probably wouldn't have pursued learning more about natural living and health, if that had not been the case.
---
In House Test Subjects
Our youngest daughter, the only in house test subject at home now.
Our children were very trusting as well to try what mom suggested, albeit not always eagerly. 
But the main test subject in our home was myself.  Feeling bad, tired and achy more and more as I aged, was getting too common.
After having our last daughter at age 42, I knew I had to do something or she would not have a mom, or I would not be able to do anything with her as a teen, if I did not change something.  Now she is the sole recipient, of my expounding on any new knowledge I learn.  Bless her heart, but she is a good sport and sometimes truly acts interested. 
So I started trying to change different habits. I was amazed at how natural products and foods could make such an improvement, on our bodies and overall well-being.
Our lifestyle has changed drastically from what it was when we first got married, but it wasn't an instantaneous change.  It was a journey of new knowledge and necessity for change, over time. 
Please know that we don't think we have arrived, not in the least,  we are still learning and striving to care for our bodies with the care we believe God, our creator would desire us to.  
So… this site will be a collection of what we have already learned, tried and are still doing to live a more natural and healthy lifestyle. The journey of learning shouldn't end, because there is always more.  Armed with basic knowledge about natural living, I believe we can have a fuller, healthier and more enjoyable life.
Thank you for taking the time to read about us, and we hope we will hear from you on our opinion pages and maybe even share with us some of your own successes with living naturally.

copyright 2017 Best2bNatural.com